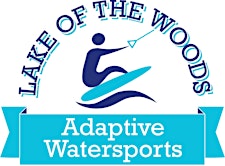 Lake of the Woods Adaptive Watersports
Our mission is to create an adaptive watersports community of support and friendship among veterans, differently-abled adults and children, family members, and volunteers to empower, inspire, and enrich the lives of everyone involved.
Summer 2020 Update:
Our foundation has been following the pandemic developments across our state, county, and local community. Our first priority to our participants, volunteers, and family members has always been your safety and well-being. Given the current risks associated with gathering in large groups and being in close proximity, we have made the following decisions:
Wounded Veterans Watersports 2020 is Cancelled. Given the restrictions 

and risks associated with meeting during the Phase 1 opening of the state, this 

event has been cancelled.

SmileS Adaptive Carnival 2020 is Cancelled. It is possible that the state will 

be in Phase 2 by the time we reach this date, however social distancing 

restrictions would make safe adaptive skiing impossible.

Adaptive Children's Event 2020 is Cancelled. The foundation still has hope that we will be in Phase 3 during the month of August, but if we are able to 

have an event in August it will be completely unique with different 

guidelines from what we have done in the past. Please be patient with us as 

we navigate this uncharted territory.

Virtual Meetings and Events Coming Soon! We would like to connect with 

our volunteers and participants in any way possible so we are looking in to 

virtual games and events. If you have any ideas please feel free to email us 

back!

Our Commitment to Our Community is as Strong as Ever! We are using 

this time to invest in equipment and resources to better serve our community in 

the future. Some of our skiers are developing advanced skills on the water and 

we are doing everything we can to facilitate their growth from a social distance! 

Keep an eye on our Instagram and Facebook pages for updates as we go 

forward.
Stay safe and healthy and we hope to ski you soon!
Sorry, there are no upcoming events