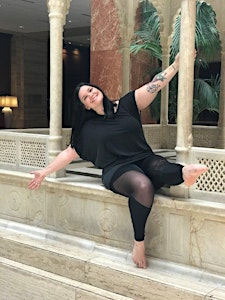 Kristin Benton
How do I tell you about me? Life has give me many challenges and I have yet to be taken down. It's a mindset I adopted in childhood as a victim of sexual, physical and emotional abuse. In college, while studying to be a professional opera singer, and after years of attempted suicide, an inpatient stay at the psychiatric hospital woke me up to the strength inside of me.
I went on to start my first business fresh out of college, built a very successful career in corporate America and then left all of it behind to partner in building a women's fitness and education startup where I had the true privilege of growing and nurturing a tribe of 25,000 women across the United States. I have appeared on CNN, been featured in Reader's Digest, star in numerous workout videos for the amazing FabFitFun, personal trained celebrities and shared women's alternative fitness in every major TV market in the United States. 
​
It was the most empowering experience of my life - running a company that achieved internal transformation by appealing to the desire for outer transformation. When that chapter ended, I was left not knowing who I was or what was next for me. With a lot of soul searching, I realized that what I'd been doing all along was transforming lives through mindset - fitness and movement was just the means to reach the women who so desperately needed to discover their own inner self-worth. All that I have learned and used to create my success is repeatable and all of my experiences are pointless if I don't share them.
​
And, now, I have committed fully to MY true calling- helping other women find and live their passion fearlessly. To celebrate the successes of my tribe- be there when they fall - and create a tribe of women who encourage each other on the journey to complete living.
​
Please join me - you can do SO much more than you are allowing yourself! You'll see.
Sorry, there are no upcoming events