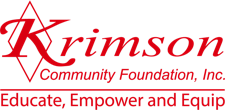 Krimson Community Foundation, Inc.
The Krimson Community Foundation was formed in 2001 as a 501(c)(3) tax-exempt to support community service, mentoring, leadership development, scholarships and community service programs in the Metro Atlanta area..  Since formation to better prepare our youth for the future we have added college readiness and ACT/SAT test prep to our programing. 
Our desire is to expand upon the support we provide to our youth by providing new initiatives and growing our support structure.
Sorry, there are no upcoming events