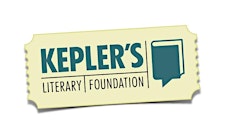 Kepler's Literary Foundation
Kepler's Literary Foundation is a 501(c)(3) nonprofit arts organization dedicated to enriching the community through literary and cultural programs. We produce over 150 programs each year bringing celebrated writers, artists, and original thinkers to engage with audiences of all ages and backgrounds.
Your ticket purchases and donations support our ability to provide outstanding literary programming for the readers and writers in our community. It also enables us to bring exceptional writers to underserved schools, put books in the hands of children who often don't have books at home, and offer free admission to students and their teachers to our literary events.