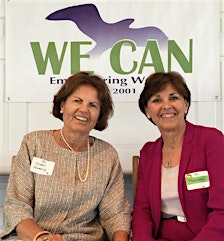 Kathy Robbins, LICSW,CPCC,SRC and Clare Garrity, CPCC,SRC
Kathy has a Masters degree in Social Work, is a Licensed Psychotherapist, a Certified Co-Active Coach, and a SHE RECOVERS Coach.   She just celebrated 31 years of an alcohol free recovery lifestyle.  Kathy sees people as being naturally creative, resourceful and whole.  She recognizes that most of us face challenges to our wholeness at various times in our lives and that "When we know better, we do better."  She is committed to guiding people to their inner knowing and best selves.  Her life's mission is to awaken people, including herself, over and over, to a new story and to new possibilities for self-acceptance, spiritual wellbeing and fulfillment. 
She lives on Cape Cod with her husband Cliff.  She is in awe of the beauty all around her and visits the ocean regularly.  
Visit her website at:  http://www.LifeCoachTherapy.com
Clare Cares. She has been in recovery for 33 years from alcoholism, food addiction and more.  As your coach she will hold the space for you to heal and to grow.  She'll guide you on your pathway to self-discovery.  With her coaching you'll get to experience the richness of the Present Moment.  Her passion is working with women to help them go deep within to find their Truth and their Beauty and to bring their Gifts to the world.  Her Spirit will inspire you and move you to be the best version of yourself. 
Sorry, there are no upcoming events