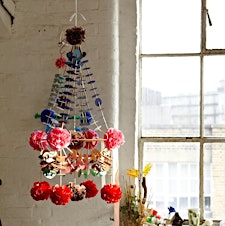 Karolina Merska
Karolina Merska is a pajaki maker living in London. 
Pajaki (pah-yonk-ee) are traditional Polish chandeliers made from rye straw and paper. Their history dates back to the mid-18th century.
Made by country women as decorations for their homes especially for Christmas, Easter, as well as for weddings and christenings. Suspended from a ceiling in a main room, amongst colourful paper cut-outs, paintings and paper flowers they became a popular decoration in polish village houses. They were a symbol of harvest and happiness in New Year. 
Today the tradition is practised less and less. Karolina keeps pajaki tradition alive.
Her work has been featured in the World of Interiors, House and Garden, Elle Decoration, Elle Decor Italia, Harpers Bazaar, The Telegraph, Time Out and many more. 
As seen on Channel 4's Kirstie's Handmade Christmas. 
Sorry, there are no upcoming events