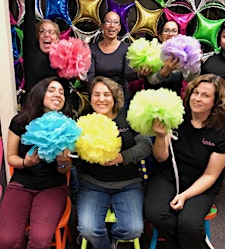 Just For Fun Art
Our venue seats up to 85 comfortably.  You're invited to bring your food and beverages.
We have a private venue, so there's no pressure to purchase
an expensive meal and a minimum number of drinks.
 Ages 12 and older are welcome to some events.
Our Party Room is available for rent even without an art activity.
We specialize in Public Paint Nites, Private Parties, and
Professional Team Building Events at our Studio or your Venue.
We have a retail store for professional face painters.  
Watch for our BOGO paint nites!
 Call (916) 468-2706
Text 916.439.7256
Email carolyn@justforfunart.com
3995 N Freeway Blvd. Sacramento CA 95834