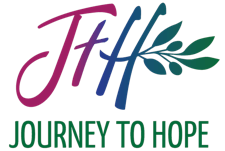 Journey to Hope
Our Mission
We empower people with the skills to cope and adapt when life takes a difficult turn. 
~We focus on the "person in the middle," our members. 
~Our programs focus on physical, emotional, and financial well-being. 
~We offer professionally-facilitated group programs, allowing members to create and active their own "new normal." 
~Our center is a welcoming place designed to make our members feel at home. 
Our Vision
We aspire to create an engaged community that seeks to activate each member's path to their best self.
A resource & gift to the community: 
Most of our programs are provided without charge to the participants. Those that do have charges do so because of the cost of the program materials and resources. 
Journey to Hope is a 501 (c) 3, organized in the State of Ohio. Our funding comes from individuals and organizations dedicated to strengthening our community.  
#beyourbestself
Concerned about the Coronavirus? Please visit our website to read about how we are doing our part to keep everyone healthy and safe.