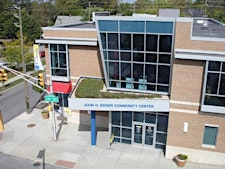 John Boner Neighborhood Centers
 History
John Boner Neighborhood Centers, a 501(c)3, was founded to serve Indianapolis' Near Eastside residents. In 1971, neighborhood residents determined the need for a community center. With their help, John Boner and Dick Moore set up a card table and two folding chairs in an office on East 10th Street, and the Near Eastside Multi-Service Center was born. Throughout the years, our philosophy has inspired the creation of services and programs in response to the changing needs within our community. Before John Boner died in 1994, the Center's name was changed to honor the leadership and vision for the neighborhood where John Boner lived and worked.
The energy, commitment and dedication of Center staff is the driving force behind our success and the unique opportunities offered to our neighbors. Through programs, services, and community development initiatives, staff help to inspire and support those who are committed to thriving towards an improved quality of life: Not just for themselves, but for the community they live.
We believe that neighborhood-driven efforts are essential in developing a healthy, thriving and vibrant community. We provide numerous tools for change and growth for our residents and community partners. Through our work, we inspire hope and foster change to improve the lives of those we serve.
 Financial Foundations staff members work with customers to gain the resources and confidence needed to set and achieve short-and long-term goals. Workshops are offered to help individuals improve their financial situation.
Sorry, there are no upcoming events