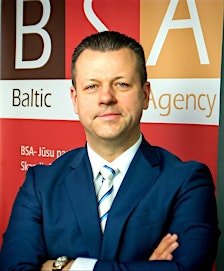 Janis Siklis
Janis Siklis - trusted advisor for anyone who has sales, marketing, customer sevice challenge or simply has immediate revenue increase need. Janis provides proven practical tips and strategies that has helped him to earn more than 1 million EUR working in tech industry in 9 countries.
Janis has closed deals for 58 companies from 12 countries in 17 different industries.
Personal closed sales track record does exceed now 28 million EUR.

Shortly about Janis Siklis on Youtube: Janis Siklis

Welcome to join in. You will earn many times more money than you invest in Profit Events with Janis Siklis tickets.

These are Online and Off-line profit events that take place in comfort of your home or in Janis Siklis office on Saturday mornings right after good breakfast.
 In case of questions how Profit Events with Janis Siklis can add tangible value and more of real money in your personal pocket please write to:
janis1881@yahoo.com
See you,
Jānis Sīklis
Youtube: Janis Siklis
Instagram: Janis Siklis
www.balticsalesagency.com
Sorry, there are no upcoming events