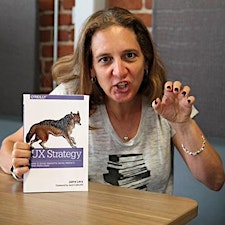 Jaime Levy, O'Reilly Media Author
Jaime Levy is an author, university professor and a user experience strategist. For more than 30 years, Jaime has been a pioneer in the creation of innovative digital products and services. She  runs a design strategy firm, JaimeLevy.com, in Los Angeles, CA. Jaime also teaches a graduate-level course on UX design and strategy at USC's Viterbi School of Engineering.
In 2015, she published her best-selling O'Reilly Media book UX Strategy: How to Devise Innovative Digital Products that People Want. The book presents a solid framework on the practice, which lies at the intersection of UX design and business strategy. A series of online video courses that supplement the book are available online at O'Reilly Media.
Before the Internet, Jaime created the first electronic magazine on floppy disk in 1990. In 1993, she worked with EMI Records where she designed, animated, and programmed the first commercially released interactive press kit (IPK) for Billy Idol's Cyberpunk CD digipack. She also founded Silicon Alley-based start-up Electronic Hollywood, a company focused on web design, interactive advertising, and original content development.
Jaime has previously done work for companies like Razorfish, HUGE, Cisco Systems, Sony and many more. She is a frequent speaker at major design and innovation conferences worldwide, and conducts public workshops and in-house training courses.
Sorry, there are no upcoming events