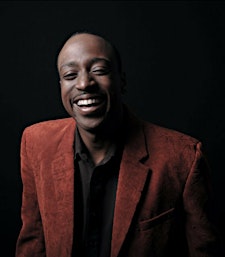 J-Red & Entertainistry
"J-Red", is an actor and a comedian with a destiny, a purpose and a plan. Native of Oakland, CA and son of parent pastors, J-Red is largely recognized for his witty comedic stylings being donned the "King of Clean Comedy". Getting his start at the age of 19, Comedian Luenell noticed J-Red's potential and encouraged him to pursue a career in stand-up.
Since then, J-Red has continued his acting and comedy career, sharing his impressive acting skills on screen as well as the stage starring and even producing local stage plays, hosting events and headlining comedy shows. He is humbled and honored to have shared the stage with the likes of many great singers, actors and entertainers and is the reoccurring MC for "L.A.'s Taste Of Soul" hosted by McDonalds. Beginning in 2014, J-Red produced and played lead role to the live stage play "A Raisin In the Sun" and toured theatres across Northern and Central California, landing at the Wilshire Ebell Theater In Los Angeles, California in 2017, to a sold out audience of 1200. Immediately following he began working as a production assistant for The Roush Wagner Co and became versed in television production with projects such as the Showtime at the Apollo, Family Feud and the 2017 Espy Awards.
J-Red is well on his way to becoming one of the world's leading entertainers as he continues to build his roles in television, film commercial and new media while maintaining a passion for empowering youth and mentoring young people who are looking for a career in the performance arts through his non-profit organization. As founder and CEO of Entertainistry he runs the non-profit organization Arts Development and Performance Theater (ADAPT) that coaches and trains youth and young adults in the creative arts.
J-Red is aware of his gift and is driven by his calling. J-Red truly believes that laughter is good for the soul!
[For more information about events & shows please contact the Entertainistry Offices at:
510.812.9262 Bay Area