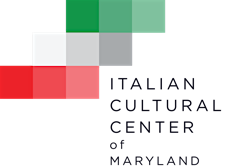 Italian Cultural Center of Maryland
Since 1955 ICCM has aimed to provide a place for Italians, Americans of Italian Heritage and Italophiles to enjoy and share their love for the Italian Culture in its many forms of Art. 
Today ICCM runs a contemporary art gallery (NIAG) promoting contemporary art, an award-winner outreach program for children inspired by Italian Culinary tradition and Montessori and Malaguzzi educational models (Be a Chef for a Day), a movie-night monthly series in Italian for children and adults (Cinema Italiano and Il Cinema dei Piccoli), Language, Art, Cooking (In Cucina) and Opera classes together with our flagship speaker series Caffè Letterario.
 To learn more about the many ways we serve our community, check our website or call us and we will gladly mail you more information.
 The Italian Cultural Center Inc of Maryland is a 501C(3) charity registered in Maryland, promoting Italian Culture and Heritage in Maryland.
Mission Statement 
The mission of ICCM is to promote and live the Italian Culture while sharing it through programs and events with the diverse community of people who live with and around us encouraging and supporting education, creativity, curiosity, respect for history, respect for the arts and respect for each other.  
Vision statement Put a bit of Italy in everyone's heart.
Established in 1955. 
Sorry, there are no upcoming events