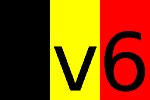 IPv6 Council Belgium
To show the importance of the step towards IPv6 in Belgium the 'IPv6 Council - Belgian chapter' has been created. The purpose of the Belgian IPv6 Council is to create awareness of the importance and necessity of IP6 and to exchange application experiences of IPv6 and to realize agreed deployment models to implement IPv6 technology.
When interested to participate within the Belgian IPv6 Council, please feel free to subscribe to our mailing list belgianv6council@ipv6forum.com.
Sorry, there are no upcoming events