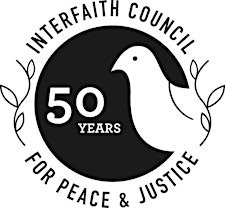 Interfaith Council for Peace and Justice
The Interfaith Council for Peace and Justice centers racial and economic justice as we address the root causes of violence from oppression, poverty, environmental devastation, patriarchy, and war. We wage love and practice nonviolence in all its forms through education, community organizing, advocacy, and direct action. We unite across our differences and empower leadership in people to create the change we need for a more peaceful and just world.
The Interfaith Council for Peace and Justice is committed to healing as a diverse community by dismantling systems of violence and building our collective capacity to live our shared values of peace, justice, and ecological sustainability. We believe that relationships that individuals and communities build through learning, mobilizing, organizing, and growing together create the foundation for co-liberation, abundance, and dignity of all life and our planet.
Sorry, there are no upcoming events