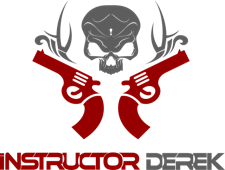 Instructor Derek's Self Defense
Instructor Derek
Firearms & Mixed Martial Arts
Instructor Derek is a nationally recognized and certified firearms instructor with the NRA. Instructor Derek shares his skills, experiences, and techniques with students just beginning to learn and understand firearms up to advanced shooters.
Mixed Martial Arts is the foundation of Instructor Derek's instruction with particular focus in Muay Thai and Brazilian Jijitsu.
Instructor Derek also volunteers his time helping youth train and learn firearm safety with Balog Combat Systems and the Eddie Eagle Campaign developed by the National Rifle Association.
Courses we offer: 
Instructor Derek firearm courses are comprehensive, using the NRA cirriculum to provide hands-on learning opportunities in the following courses:
State-specific firearm safety training for concealed carry/permit to carry (including non-resident permits where available)
Women-only firearms classes with permit training
Level 1 firearms fundamental range training
Level 2 advanced marksmanship range training
Private class training available by request
Senior & Handicap safety classes available upon request
A request can be made by phone (262) 325-6467, email (train@instructorderek.com), or our website (www.instructorderek.com).
Serving: Genoa City, Lake Geneva, Burlington, Elkhorn, Milwaukee areas, Oak Creek, Kenosha, Chicago Area's and throughout the Greater Lakes Area of Wisconsin & Illinois.
CAN'T MAKE IT TO ONE OF OUR COURSES DUE TO YOUR SCHEDULE? NO WORRIES, WE ARE INSURED TO BRING OUR COURSES ON THE ROAD TO YOUR HOUSE OR FACILITY. MINIMUM CLASS SIZE OF 4, AND YOU AS THE GRACIOUS HOST WILL BE FREE. CONTACT AT (262) 325-6467 to SCHEDULE.
American Legion Post 183 • Genoa City, WI
$100 - $200