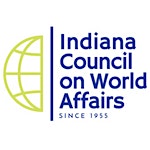 IN Council on World Affairs
The purpose of ICWA is to foster public understanding of world conditions and US foreign policy through forums, lectures, conferences and publications.
About the Council
The Indiana Council on World Affairs is a non-profit, non-partisan, educational organization founded in 1955. Activities are administered by a volunteer group in cooperation with local institutions. We welcome anyone with an interest in learning about topics that affect our world.