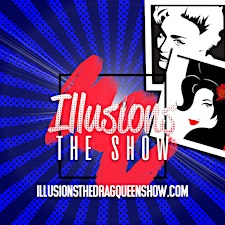 Illusions The Drag Queen Show. Brunch & Dinner Shows
Illusions the Show is the perfect combination of spectacular burlesque style and comedy performances by the industry's best celebrity impersonators and the funniest drag queen hosts you'll ever have the pleasure of encountering. This knock your socks off celebrity tribute drag queen dinner show & drag queen brunch show, is the perfect mix of classy entertainment and raunchy comedy! 

Come see this amazing drag queen show and laugh your ass off all night long while being amazed by the stellar performances in tribute to some of your old-time favorite classics as well as the latest pop favorites. Come see the likes of, Madonna, Cher, Tina Turner, Whitney Houston, Liza Minelli, Joan Rivers, Phyllis Diller, Beyoncé, Pink, Nicki Minaj, Cardi B, Rihanna, Brittny Spears, Adele, Amy Winehouse and so many more! You never know who will be performing in your city, but one thing is for sure "you'll love each and every one of our celebrity impersonators!" 

Our celebrity impersonation drag queen dinner and drag queen brunch shows are perfect for bachelorette parties, gay bachelor parties, birthday parties, couples night out, guys night out, ladies night out, moms night out, or for no damn reason at all but just to see the most amazing drag queen show in town!