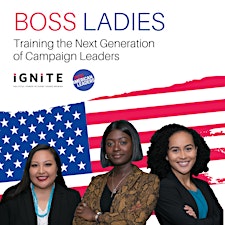 IGNITE & New American Leaders
IGNITE and New American Leaders are joining forces and coming to cities nationwide to train the next generation of fierce campaign leaders.
These badass boss ladies will learn the keys to running a successful campaign. During an immersive half-day training, participants will learn how to find a position that fits your skill set and professional goals, figure out what candidate you want to work for, create a winning campaign strategy, and a host of other essential campaign skills! Boss Ladies will walk away not only feeling empowered, but with a new campaign toolkit that includes fundraising advice, GOTV strategies, field management insight, media tips, and more.
Sorry, there are no upcoming events