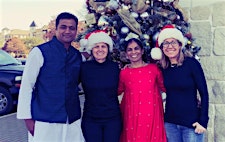 iDoYoga San Antonio
On June 21st, 2014 a group of volunteers from Sewa International and Hindu Swayamsevak Sangh, led by Dr. Hetal Nayak came together in front of the Alamo to celebrate the 1st International Day of Yoga.
The Alamo location was chosen because it is a symbol of sacrifice! Yoga teaches us to sacrifice the lower emotions of lust, anger, greed, hatred, jealousy, envy and fear. When these emotions are sacrificed for higher emotions such as love, compassion, tolerance, forgiveness and charity; the mind becomes purified and higher levels of peace are experienced.
In 2015, this group of passionate individuals from the community, formally named I Do Yoga and now celebrate the International Day of Yoga. Our organizational founders are Sewa International, Hindu Swayamsevak Sangh, Yoga Day and Ekam life (Maggie Grueskin).
2020 Organization Committee
Trinabh Shukla / (210) 544-6904 / Hindu Swayamsevak Sangh, Volunteer
Shari Miller- Gaiennie / (210) 380-8757 / Yoga Seva Institute, Director
Dr. Hetal Nayak / (830) 534-9683 / SEWA International, Coordinator – SA Chapter
Kristen McKenney Baggett / (210) 429-4136 / Yoga Day US Foundation, Executive Director
Maggie Grueskin / (210) 737-4181 / Ekam Life, Yoga Health Coach
Sorry, there are no upcoming events