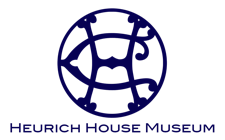 Heurich House Museum
The Heurich House Museum preserves local Washington, DC history and educates the public through Christian Heurich's legacy and mansion. The mansion was built from 1892-4 by German immigrant, local brewer, and philanthropist Christian Heurich (1842-1945). Recognized as Washington, D.C.'s most successful brewer, he ran the Chr. Heurich Brewing Co. until his death at 102.  The mansion is notable for its technological innovations, original interiors, and rich archival collection of one of the most important local families.   
The museum, located at 1307 New Hampshire Avenue in Dupont Circle, is open for regular public events and public tours Thursday through Saturday at 11:30 a.m., 1:00 and 2:30 p.m. Private tours and event rentals are also available. For more information, visit heurichhouse.org or call 202-429-1894.
Sorry, there are no upcoming events