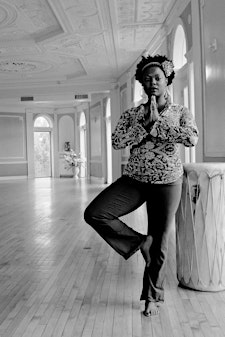 Hatha Holistic Integrative Wellness ( founded 2010)
www.hathaholistic.com
Misia  Denéa has a B.F.A. from Esther Boyer College of Music and Dance at Temple University in Philadelphia. Mimi also is a graduate of New York's Institute of Integrative Nutrition and is a Certified Holistic Health Practitioner. She also recently graduated from the Raw Food Institute and is a Raw Food Educator.
 Her Yoga Classes are a vigorous vinyasa style, with a focus on flow, prana, rhythm and mindfulness.She has taught yoga through out the US and Abroad, at conferences, Universities , to homeless individuals, to HIV positive adults and has journeyed to Belize and India to teach/practice yoga.
Mimi offers a variety of Holistic Wellness Programs for those seeking to re-shape their relationship to food and excercise with her Hatha Holistic Wellness Programs. :
*  Private Sessions- offering 3 month specialized integrative wellness programs for individuals who want to re-shape their relationship to food and excercise ,reduce stress with a gentle yoga and meditation practice, learn about nutrition via food demonstrations, health food store tours and more!
* Semi-Private/Small Group Sessions- offering specialized 3 month programs to small groups or couples who want to explore wellness. Mimi can lead sessions at your work, home or for day long retreats at wellness centers.
* Yoga and Nutrition workshops for Grade School Students (k-12) to combat ADD/ADHD
*Public Speaking engagements about Health, Nutrition and Mind Body Healing at Conferences,Health Food Stores, Women's Retreats etc
*Corporate Wellness Yoga -to nurture wellness in workers in large corporations, and small corporations alike.


CHECK MISIA OUT ON THE INTERNETS!
OWNER/FOUNDER Hatha Holistics Integrative Wellness ( since 2010)
LINKEDIN-https://www.linkedin.com/in/misiac
PINTEREST: http://pinterest.com/misiadenea/
TWITTER:http://twitter.com/hathaholistic
FB: http://www.facebook.com/NamasteSista
TUMBLR: http://boogalooga.tumblr.com/
WEB: www.Hathaholistic.com


SKYPE: misia.denea
EMAIL: misiadenea@gmail.com
Sorry, there are no upcoming events