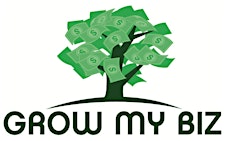 Grow My Biz
Value Statement:
Grow My Biz believes in helping small business owners achieve physical and financial freedom by educating and assisting them in developing foundationally strong and effectively run businesses fueled by purpose and meaning.
Guiding Principles
The strength and cornerstone of our reputation derives from the integrity of our staff.
To instill purpose and meaning in the works of our team members and clients.
It is only through the success of our clients that we will realize our own success.
Quality over Quantity - While our program can work for every business, we accept that not every business can work within our program. As such we must only align ourselves with clients that share a strong understanding and belief in the framework, as well as a true commitment to its disciplined steps.
What we do:
Grow My Biz offers a variety of training, coaching and consultative services to help small business owners develop their businesses to their fullest potential. 
Our powerful and cost effective workshops give small business owners the real world knowledge and experience they need to grow their business.  In addition to our educational workshops, we also offer individualized coaching services to assist small businesses on their Journey to Success.
Sorry, there are no upcoming events