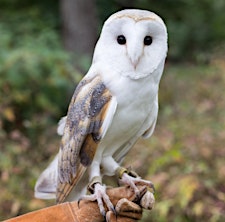 Glen Helen Ecology Institute
Glen Helen is a 1000 acre nonprofit nature preserve with more than 20 miles of trails, educational public programs & events, residential environmental education, & raptor rehabilitation. We are supported by the generosity of Glen Helen Association Members, community donations, and publicly accessible grants. 
We steward and strengthen Glen Helen for present and future generations, safeguard the ecological, historical, and geological resources within its bounds, and utilize the preserve to offer life-shaping environmental learning to our students and visitors. 
More than eighty years have passed since Hugh Taylor Birch, a visionary with a love of nature, donated this wooded glen to Antioch College as a living memorial to his daughter Helen. Over the years, Glen Helen has played a lead role in shaping the ecological literacy of our visitors, our community, and the region. The Glen is home to the first residential outdoor education facility in the Midwest, the first educational forest in Ohio, and Ohio's original facility for education and rehabilitation of birds of prey. Within the borders of this thousand-acre preserve, we shelter nearly two miles of the State and National Scenic Little Miami River, plus one of the few National Natural Landmarks in Ohio, and we harbor a stretch of Ohio's famous Buckeye Trail. 

Glen Helen offers something for everyone, from the college student conducting research with their class, to families drawn in by the 400 year-old oaks and trillium-carpeted slopes, from the kids whose lives are changed by a week at the Outdoor Education Center, to the weekend visitor eager to walk some of our 20+ miles of trails. 
Trails are open to the public from dusk to dawn, daily. Visitors may access the trails free of charge, though donations are greatly appreciated. A modest $5 parking fee is required at our main entrance, located at 405 Corry Street, Yellow Springs, Ohio. 

The Glen Helen Nature Shop is open to visitors, Monday through Friday, 9:30 am to 4:30 pm, Saturday and Sunday, 10 am to 4 pm.
Visit our Animal Ambassadors, learn about Glen Helen, and explore ecological exhibits in our Trailside Musem; weekends. Please visit our website for seasonal hours. 
Outdoor Ambassador Raptor cages are accessible to the public at the Glen Helen Raptor Center, located at 1075 SR 343, Yellow Springs, Ohio. Please visit our website for seasonal hours. 

Hike, learn, belong!      
Sorry, there are no upcoming events