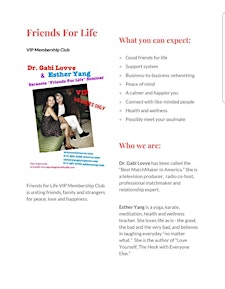 Gabi Lovve & Esther Yang
Dr. Lovve (GabiLovve.com) has been called the "Best MatchMaker In America" and is mostly based in New York City and Los Angeles.  She aims to perfectly target success in your love life whether you are single in search of love or coupled in search of support.  Gabi is currently working towards her Ph.D. and her focus is Relationship Satisfaction and Personality Types.  She can be seen monthly on The Dr. Lovve Show on Public Access TV as well as on her Dr. Lovve Love Tips.  She hosts monthly LovveMatch Match Making Parties, Dr. Lovve Trainings, Lovve Workshoppes and can be seen performing monthly at her and Esther Yang's latest FRIENDS FOR LIFE (FFL) Events at The Art Ovation Hotel, Westin, & Ritz-Carlton across the nation.

Please call ESTHER (917) 369.0032 or Gabi (310) 424. 0086 for your Application to join FFL today!
DrLovve@DrLovve.com/Esther@EstherYang.com
Sorry, there are no upcoming events