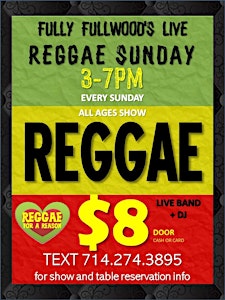 Fully Fullwood's Live Reggae Sunday
Relax every Sunday afternoon at the famous Golden Sails in Long Beach while listening to some of the most gifted and experienced reggae musicians around. Live reggae music,  a friendly crowd and surprise guests.  Admission is $8 at the door (may be higher for special events),  full food menu, amazing drinks and all ages are welcome.  What better way to spend a Sunday afternoon?
A portion of the admission paid each Sunday is donated to REGGAE FOR A REASON, a nonprofit, 501(c)(3) charitable organization, founded by Fully Fullwood, to benefit homeless and disadvantaged youth in California communities.
ABOUT FULLY FULLWOOD
For well over 30 years, Fullwood has been instrumental in shaping the sounds of Jamaican music. The originator and leader of the "Soul Syndicate Band", Fullwood also has the distinction of being a member of reggae superstar Peter Tosh's famous band, "Word, Sound and Power", whom he recorded with and toured with until Tosh's untimely passing. A few artists Fullwood has worked and recorded with include: Bob Marley, Peter Tosh, Michael Rose, Mikey Dread, The Mighty Diamonds, Black Uhuru, Joe Higgs, Dennis Brown, Gregory Isaacs, Frankie Paul, Big Youth, U-Roy, Sister Carol, John Holt, Judy Mowatt, Ken Boothe, Andrew Tosh and Delroy Wilson.
Sorry, there are no upcoming events