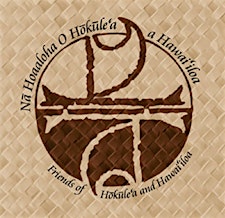 Friends of Hōkūle`a and Hawai`iloa (FHH)
Nā Hoaaloha O Hōkūle`a A Hawai`iloa (Friends of Hōkūle`a and Hawai`iloa) is a 501(c)3 100% volunteer ran non profit organization perpetuating traditional Hawaiian canoe building and restoration skills as well as to helping to build and maintain double hulled voyaging canoes such as Hōkūle`a, Hawai`iloa and other voyaging canoes who came after them.  
Founded by master canoe builder, Wright Bowman, Jr. In 1996, the Friends continue the legacy of building Hawaiian canoes with mostly traditional native materials and has repaired and maintained koa canoes of historical importance. Master canoe builders Tay Perry, Jerry Ongies and Jay Dowsett carry on the legacy as mentors for future builders. Under the leadership of Billy Richards, the Friends hope to build the Kalai Wa`a (canoe builder) community.  
Wrighto and his friends began building Wa'a kaulua, Hawai`iloa in 1991 with mostly all traditional materials.  Hawai`iloa was launched in 1993 and took it's maiden voyage to the South Pacific in early 1995, shortly followed by a voyage in Southeast Alaska.  After a long dry dock, the Friends relaunched Hawai`iloa in March 2014 and are raising funds to keep Hawai'iloa sailing. 
http://www.nahoaaloha.org/
Sorry, there are no upcoming events