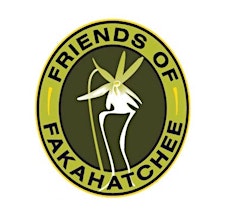 Friends of Fakahatchee
Our last tour of the season was on the 26 April 2021. We thank everyone who participated to our limited tours in Jan thru April 2021, your support was very encouraging!
The Tours program for November 2021 thru April 2022 will be posted on Eventbrite in October 2021 and we look forward to offer our regular tour season with out any COVID 19 interference.
Questions can be answered by calling 239-695-1023, a volunteer will return your call.
This site features the official not for profit Friends of Fakahatchee sponsored swamp walks, tram tours, boardwalk tours, evening programs and more...by participating you help support the largest State Park in Florida. 
Friends of Fakahatchee is a 501(c)(3) not-for-profit Citizen Support Operation.  It provides financial and volunteer support to preserve the unique ecology and cultural heritage of Fakahatchee Strand Preserve State Park and to educate the public about its importance.
For a map of the Fakahatche Preserve : 
http://orchidswamp.org/wp-content/uploads/2018/06/TrailMap-rev-6-6-18.pdf 
Sorry, there are no upcoming events