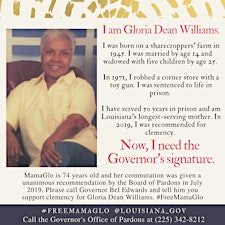 #FreeMamaGlo
Gloria Dean Williams was born on a sharecroppers' farm in 1945. She was married by age 14 and widowed with five children by age 25. In 1971, Gloria robbed a corner store with a toy gun. She was sentenced to life in prison.
Known affectionately as Mama Glo by the countless incarcerated women she has mentored, Mama Glo has served 50 years in prison and is Louisiana's longest-serving mother. In 2019, Mama Glo was given a unanimous recommendation for clemency by the Board of Pardons.
Mama Glo needs to return home to her loved ones. Please tell the Governor to sign her commutation and tell him that you support clemency for Gloria Dean Williams.
#FreeMamaGlo
Sorry, there are no upcoming events