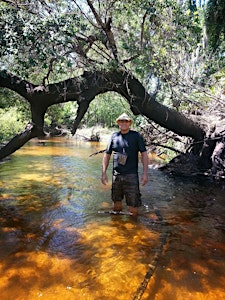 FOSSIL RECOVERY EXPLORATION
Kenneth Follmann is originally from Lombard Illinois then moved to Wonder Lake were he raised his three sons. Moving to southwest Florida in 2010 he fulfilled his goals to be NAUI certified diver and search for Megalodon shark teeth off the beaches in Venice Florida. Joining Fossil Club in Lee County in 2012 to help his ability to identify fossils and meeting people with the same passion in fossil hunting (
http://www.fcolc.com/).
Ken found a secluded creek in Arcadia Florida and finding over 40 species of fossils in a short period of time. Beginner Fossil hunters reached out to Ken for help where he honed his skills as a tour guide.
After finding a large amount of shark teeth Ken having a background in art used the fossils to create one of a kind 3-D fossil sculptures of sea life creatures and called it Bite Me Fossil Sculptures. The first appearance was in of his art work 2015 at Venice Shark tooth festival selling his first sculpture. 2016 Bite Me Fossil Sculptures was awarded ribbon at the Cape Coral Art Festival and was recently honored in 2019 to show his work at Museum of Art & Science in Daytona Beach Florida.