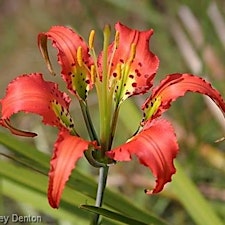 Florida Native Plant Society - Pine Lily Chapter
The Mission of the Florida Native Plant Society is to promote the preservation, conservation, and restoration of the native plants and native plant communities of Florida.
 The Pine Lily Chapter hosts educational booths and native plant sales at community gatherings. We have monthly field trips/hikes in surrounding State Parks and natural areas as well as monthly meetings with speakers on a variety of topics. We do native plant rescues which includes endangered species, turning some of Osceola County's roadsides into pollinator habitats made up of native wildflowers. We work with other groups to help protect the natural environment of Central Florida. Join us in helping make a difference in Osceola County!
Lake Lizzie Conservation Area South Parking Lot • St. Cloud, FL