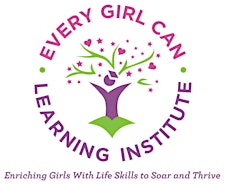 Every Girl Can Learning Institute, Inc.
The Every Girl Can Learning Institute, Inc. (EGCLI) ia a non-profit, non-partisan 501 (C ) (3) organization incorporated in Maryland on March 10, 2015. Based in Silver Spring, Maryland, USA, EGCLI is committed to enriching the lives of girls to soar and thrive in school, career and community.
Our two-fold mission is to provide girls life skills enrichment programs that help ensure their success in school, career and community; and to give them experiences, exposure and tools that build confidence, a positive self-image, respect, trust and integrity in their everyday lives.
EGCLI made its public debut as the new sponsor of the Every Girl Can™ Conference (formerly the Every Girl Can™ "SMART Image" Conference under the management of KYMS Image International, LLC). Themed Girls Rising Through Leadership, the 8th Annual Conference for girls in 5th to 8th grade and women took place on Saturday, May 7, 2016 at Montgomery College, Health Sciences Center, Silver Spring/Takoma Park campus. The event was free for girls and supported in part by the generous donation of time and resources by Montgomery College, dedicated business and professional women as well as sponsors under the guidance of the EGCLI Board of Directors.
EGCLI founder and president, Yasmin Anderson-Smith, first created Every Girl Can™ as an after-school enrichment program at Takoma Park Middle School.