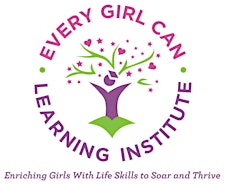 Every Girl Can Learning Institute, Inc.
The Every Girl Can Learning Institute, Inc. (EGCLI), based in Silver Spring, Maryland, USA, was incorporated as a 501 (C)(3) as a non-profit organization in 2015. We are currently in reformation and expect to resume non-profit status this year.
In the interim, we remain committed to enriching the lives of girls to soar and thrive through education programs focused on STEM/STEAM, leadership and life skills. Our programs and activities help girls build confidence, integrity, and a positive self-image, while they build respect and trust from others in their everyday lives. Our first annual conference as a non-profit took place in 2016 as a collaboration with Montgomery College. This give-back-to-community event primarily targets girls in 6th to 8th grade, we also empower empower women and girls in high school are welcome to participate. 
Previously, conferences were held in collaboration with Bowie State university in collaboration with the Henry Wise Wellness Center.
Our conferences, camps, field trips and workshops are designed to help girls build life skills, self-confidence, self-esteem and a "yes I can" attitude necessary to soar and thrive in and out of school.