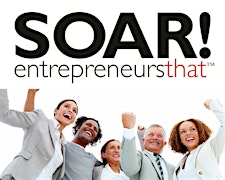 Entrepreneurs That SOAR!
"Connect, Engage, & Empower Others Into Action!"
About Us
Entrepreneurs That SOAR! is an international coworking, resource,  and consulting organization for small businesses. 
What We Do

Entrepreneurs That SOAR! offers business events and programs that help entrepreneurs to develop strategies, leverage opportunities, and build alliances to achieve results.

We cowork globally with business experts to provide access to resources, and offer training and development to members of our community. Our primary focus is to help them implement "High Tech, High Touch" (TM) business strategies in their 21st. century enterprises.
We specialize in the following businesses:

1. Sole Proprietorship
Network Marketers
Internet / Online Marketers - Website / E-commerce
Independent Professionals - Doctors, Lawyers, Financial Consultants
Coaches - Business, Lifestyle, Health, Image
2. Partnerships & LLC
Family Businesses - consumer products and services
Food and/or Hospitality Management - restaurant, bakery, catering, cafe / bistro, "Bed & Breakfast".
Retail Management / Convenience Retail
Read more about our services here. 

Our Goal
Our goal is to build a coworking community of entrepreneurs, and driven individuals /  visionaries who are committed to helping one another gain wealth, and build successful 21st. century businesses.
Our mission is to empower economic and personal development through entrepreneurship. We envision a community of successful individuals who would have the resources to do good and change the world.
Sorry, there are no upcoming events