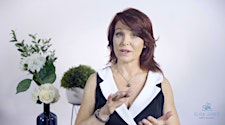 Elisa James Haps Voice Pro
Elisa James is a veteran performer with over 30 years experience in the entertainment industry world-wide. 
Starting out at just 14 years old as a professional dancer/actrobat, Elisa moved to singing and acting as her full time career by age 18. 
Performing all over the world singing in bands, orchestras, as solo Cabaret Artist, One Woman Theatre show, Session singer for famous pop stars and many other gigs lead her eventually to Living in Europe and America for the majority of her career. 
Along the way, as a confident performer, she was always asked to speak, MC or present at various venues around the world for events and seminars, and due to this fell into the professional speaking industry almost by accident. 
As a Holistic Voice and Presentation coach now in Australia and America, Elisa's passion is helping business owners and aspiring speakers FIND THEIR AUTHENTIC, CONFIDENT VOICE. 
She holds events, workshops and trainings for corporations and private coaching clients. 
www.elisajames.com
info@hapsvoicepro.com
Sorry, there are no upcoming events