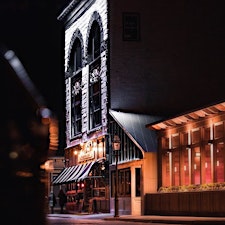 Dueling Pianos at The Top Of Pelham
Welcome to One Pelham East, located on historic Thames Street in Newport. One Pelham East has been a household name over the years synonymous with live entertainment, nightlife and hosting some of music's all-time greats. One Pelham East was a sought after Irish Rock Club bar through the generations. Today, it remains a staple in Newport's nightlife located in the heart of downtown.
The Top Of Pelham incorporates industrial design, sleek modern elements, and pieces of One Pelham East's music history. The characteristics of the building along with scenic views of Newport Harbor and the illuminated Pell Bridge produce a truly unique event venue. Our location provides the perfect space for corporate or private parties as well as wedding events alike. Beyond hosting, TOP proudly presents Newport's only venue featuring Dueling Pianos and variety shows for visitors to enjoy.
Check us out at https://thepelham.com/ for events, updates, exclusive deals, and more!