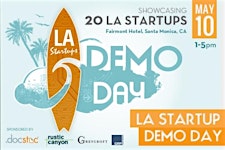 Docstoc, Rustic Canyon Partners, and Greycroft Partners
Docstoc is the premier online destination to start, grow, and manage small businesses. It hosts the best quality and widest selection of professional documents (over 30 million), and resources including articles, videos, & productivity tools to make every small business better.  Docstoc is a top 500 most trafficked website worldwide and has over 25 million registered users. It offers a vast collection of free resources & provides a monthly membership which unlocks it's widest selection of premium content.   
 Rustic Canyon Partners is an early stage venture capital firm that invests in exceptional entrepreneurs building transformational companies. We believe great venture capitalists provide the service, support, and resources to assist entrepreneurs realize their vision. We are one of the largest VC firms in Los Angeles, and maintain an active office in San Francisco. Naturally, our investments activity is focused in California, but we consider opportunities in other regions where we meet remarkable entrepreneurs who are building great companies that fit our theses. 
Greycroft Partners is a venture capital partnership, formed to invest in promising digital media companies.  We serve the founders and investors who have chosen us as their partners, and help them to build large, successful businesses. Greycroft understand media, entertainment, and advertising. With offices in New and Los Angeles, we leverage on extensive network of media and technology connections to help our portfolio companies gain visibility, build strategic relationships, and successfully bring their products to market.


Sorry, there are no upcoming events