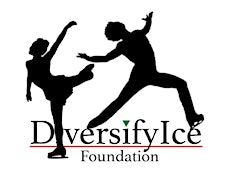 Diversify Ice Fellowship & Foundation (DIFF)- Joel Savary
Joel is the founder and president of Diversify Ice Fellowship and Foundation (DIFF) and the organizer of the "Skate-Raiser" on Ice event.
He is an international and national figure skating coach in the DMV area. In addition, Joel has performed in skating shows internationally. 
Growing up, Joel loved skating because it allowed him to divert his energy to a sport that was unique compared to the majority of his friends in basketball or football. As an African American male, Joel felt the stigma of engaging in figure skating because it wasn't deemed "masculine" by his peers. In addition, competitive figure skating was not representive of people who looked like him.
The expense of this sport continues to be a barrier to entry for many minorities who would like to skate competitively and a huge roadblock to success for many that are talented and driven.
These barriers prompted him to find the DIversify Ice Foundation to help many underrepresented figure skaters in America with funding, mentorship, opportunities, and networks.
In addition, Joel hopes to use figure skating as a tool to deter low income kids from violence and crime by helping them gain access to this challenging and fun sport. He plans to partner with schools and community centers around the country to give everyone the opportunty to skate.
Come support the cause by joining us at this event- "Skate-raiser!"
Learn more at www.DiversifyIce.org
board members: Omarri, Kelly, Alsean, Marvin
Gardens Ice House • laurel, MD
$25 - $30