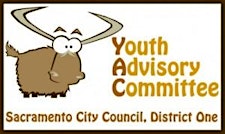 District One Youth Action Corps
The District One Youth Action Corps is a made up from a group of high school to college aged volunteers who are a resident of or attend a school within District One. The Youth Action Corps (or YAC for short) works on and participates in a number of events and projects aimed at serving the local community.
One of the many goals of the Youth Action Corps is to create strong and independent leaders for tomorrow. This committee helps youth to understand the role of local government in their daily lives, gives them a voice at City Hall, provides them valuable real-life experience, and helps them meet and interact with people from all walks of life. Those who have gone through a year with this committee will tell you, it's a rewarding and fun experience.
Questions about the District One Youth Action Corps?  Email Elena Quintero, District One Parks & Youth Liaison, at equintero@cityofsacramento.org.
For more information, go to www.AngeliqueAshby.com/YAC.  Other District One youth volunteer groups include Parks Leadership Academy for Youth (PLAY) and Alpha YAC (our volunteer program for young adults ages 18 to 25).  
WAIVER:  Don't forget to bring a signed waiver to your first event!
Sorry, there are no upcoming events