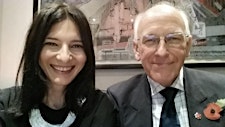 David Meggitt and Christie Sarri
Organizers David and Christie are Chartered Civil Engineers with extensive business and management experience and Partners in Meggitt Bird LLP a transformation agency focused on value co-creation. 
Their first e-book, "Questions with changing answers," was published in October 2015 on Amazon.co.uk and Amazon.com


Your facilitators:

Both David Meggitt and Christie Sarri are Chartered Civil Engineers and Partners in Meggitt Bird LLP. Additionally:
David
commenced his career in civil engineering and specialised in bridge design. He subsequently became a management consultant, business advisor and entrepreneur and is an alumnus of both PA International Management Consultants and Planning Research Corporation. He is an enthusiast for innovation and supporting techniques. He spent over a decade working in the "value network" space, in which he acquired an international reputation, before co-developing VES – the Value Exchange System tool (Meggitt Bird). In 2003 he co-founded and became a Director of 3Cs Community Ltd, the first company to pioneer an entrepreneur support and funding network in the UK. In 2006, in recognition of his expertise with value networks, he was awarded Certified Practitioner and facilitator status. 
Christie
- Strategist - Business model Innovator – Co founder or to put it simply Christie likes to make things happen. Christie graduated as a civil Engineer from the University of Rome - La Sapienza and gained experience in designing and building structures working with the international companies on projects with high social impact. Involved since the very beginning in the business development of those companies she nourished further her interest in strategic modelling of businesses. Her MBA (Warwick University) and Open Innovation courses (Berkley) facilitated the co-generation of the VES - Value Exchange System tool (Meggitt Bird) and a series of publications explaining the benefits of the hybrid business model. Mapping problems and evaluating businesses prior to leading them to an innovative growth strategy are her main impact areas. Through pom - a coworking space in Heraklion she envisages bridging Cretans with a global community of like-minded people. She also runs her own engineering consultancy Christie Sarri & Partners.
Sorry, there are no upcoming events