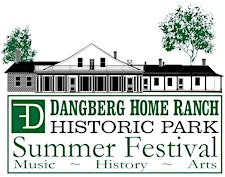 Dangberg Home Ranch Historic Park
2020 Summer Festival events are TBA.
~   Festival Sponsors   ~
Douglas County   ~   Frances C. and William P. Smallwood Foundation
Carson Valley Accounting   ~   Horse Tales

Carson Valley Chamber of Commerce   ~   D & B Cabinet   ~   Dr. James the Dentist
Edward Jones Investments – Tim Cleveland   ~   Douglas Disposal & Recycling Service
Hone Company   ~   Jacobs Family Berry Farm   ~   Mangia Tutto Pizzeria & Ristorante
         Nevada State Bank   ~   The Pink House 
The Dangberg Home Ranch Historic Park is operated by Friends of Dangberg Home Ranch, Inc., a 501(c)(3) non-profit organization. The Friends, in cooperation with Douglas County, is dedicated to the continued operation of the park and the preservation of its historic structures and museum collection.
The Dangberg Home Ranch was founded in 1857 when German immigrant Heinrich Friedrich Dangberg started a new life in Carson Valley. He married, and a small cabin grew into a large house as he and his wife, Margaret Ferris Dangberg, raised five children. Dangberg prospered, and his success as a rancher, businessman and politician established the Dangbergs as one of the most influential families in Carson Valley history.
In 1902, they foundd the Dangberg Land and Live Stock Co., and over the next few decades expanded to almost 50,000 acres supporting cattle and sheep production, along with vegetable crops and other products. In 1905, the family founded the town of Minden and there, in partnership with other ranchers, established several businesses focused on agriculture, banking and a hotel.
Today, the Dangberg Home Ranch Historic Park preserves this essential chapter in Nevada's history. Guided tours take visitors through the main residence and other buildings, where the family's story connects with 150 years of Nevada history. The park is located just west of Minden, NV, at 1450 Hwy 88. The site includes eight historic structures built between 1857 and 1917, along with a collection of 39,000 artifacts, documents and photographs acquired and used by the Dangberg family. Programs include tours, exhibits and other public events.
Tours of the Dangberg ranch house are available in all seasons. To make a tour reservation (required), contact the park at 775-783-9417. Tour admission is $10.00 for adults, free for children 16 and younger. Tours last about 65 minutes. The park can also be reserved for weddings, reunions and other events from April through October. The park stages numerous special events. More information about this year's events is available on the park's website.
Sorry, there are no upcoming events