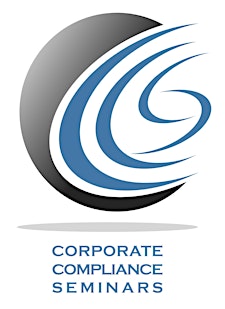 Corporate Compliance Seminars (CCS)
Corporate Compliance Seminars provides seminars, training, documentation and consulting expertise to businesses of all sizes. Our mission is targeted to promoting the awareness of internal controls, regulatory compliance, SOX compliance, corporate governance, IT security, internal auditing, external auditing and fraud prevention and detection. Our experienced faculty has been working within the subject matter areas for over 20 years. Corporate Compliance Seminars has been presenting informative and entertaining seminars since 2004. We first started with training concerning compliance with Section 404 of the Sarbanes-Oxley Act of 2002 (SOX).
A number of our offerings are designed for the attendees to have no need any prior knowledge of the subject (i.e. the Program Level is "Basic".). The subject matter will be thoroughly covered in a general to specific manner. There are no prerequisites and advance preparation is not required.
The seminars are offered in a "Group-Live" format. Up to eight hours of Continuing Professional Education (CPE) credit hours are available per day of training.
Training Philosophy
Corporate Compliance Seminars is the premier source of CPE training classes within our targeted subject areas. Our success has resulted from two critical factors:
- Expert instructors with many years of "hands-on" work experience in the fields of study, and
- Course content that is designed, continuously updated and presented to achieve maximum professional learning results.
Every one of our education sessions will provide the attendees with a practical, engaging and enjoyable learning environment. We defined these business objectives as:
Experienced: We know that quality education is based on the clear presentation of subject matter by instructors that have the deep professional background and field experience.
Practical: Presentation material discloses the best practice real-world, cost-effective methods in the subject areas,
Engaging: Attendees are encouraged to express challenges and concerns from their day-to-day experiences. We strongly promote interaction and participation by including thought-provoking presentations and workshop exercises,
Enjoyable: The instructors are engaged and engrossed in the subject matter and have the skills to make learning about the driest accounting and control subjects enjoyable. We are committed to presenting the CPE material in a most entertaining and informative style.
Most importantly, we continually examine participant evaluations, changes in the industry and feedback from clients and instructors to update our course material. We have had many students enroll in the same subject matter seminars over the years.
List of Geographic Areas and Cities with Scheduled Training