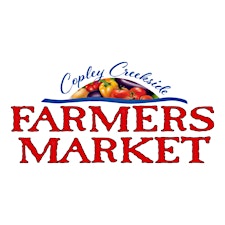 Copley Creekside Farmers' Market
The Copley Creekside Farmers Market began in 2012 as a way to bring the community together each week in the heart of the township while honoring the area's rural heritage. Copley is a historically rural farming community and local business leaders felt it was time to embrace that fact.
Now entering its eighth season in 2019, the market continues to give friends and neighbors the opportunity to shop together in the fresh air for local produce and homemade goods. It's an open and flexible market, allowing vendors to join at any time and for as many weeks as fits their schedule. This means Copley is able to offer a market with an irresistible mix of the new and unexpected next to the classic and weekly favorites.
You can visit the market at 1245 S. Cleveland-Massillon Rd, Copley, Ohio 44321 on Thursdays from 3:00 - 7:00 between May 30 and October 3 and on the Second Sunday of every month from June - September from noon - 3:00.
For more information and to keep up with each week's vendor schedule, visit our website at http://copleyfarmmarket.com/, where you can sign up for our weekly newsletter.
We look forward to seeing you at the market!
Allison Chrien
Market Manager
Cindy Thompson
Assistant Market Manager
Sorry, there are no upcoming events