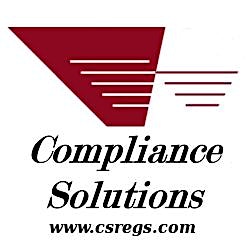 Compliance Solutions Occupational Trainers, Inc.
Since 1995, Compliance Solutions Occupational Trainers, Inc has been THE  source for OSHA, EPA and DOT certification training. From your initial contact until you complete your training and certification, we never stop earning your business. Exceptional customer service, experienced Instructors, more dates, locations and options for the training you need....all at a price that will make you smile! 
Online (web-based), On-site and open-enrollment, instructor-led training in 60+ U.S. cities. If consistency, price and service are important, we invite you to see what 500,00 students working for over 18,000 companies already know: Experience the difference Compliance Solutions makes.

Compliance Solutions offers EH&S certification training on more than 100 subjects and topics including:
HAZWOPER (40, 24, 16 and 8-Hour Refresher training)

Emergency Response (Awareness and Level I! thru Incident Commander)

DOT Hazmat Transportation

EPA/RCRA Hazardous Materials Management

Confined Space Entry & Rescue

H2S (Hydrogen Sulfide) and more.....
Check out our schedule of classes on Event Brite, call us at 800-711-2706 ext. 1 or visit our website at http://www.csregs.com
Compliance Solutions
Today's Training......Tomorrow's Solution