City of Menlo Park: Community Services Department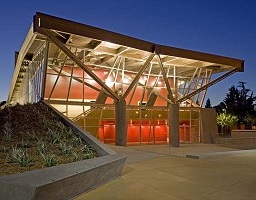 Menlo Park is a city of roughly 30,000 people located in the South Bay Area, with San Francisco and Oakland to the north and San Jose to the south. In 2009, the City constructed the Menlo-Atherton Performing Arts Center (PAC) in conjunction with Menlo-Atherton High School. This facility is available to the City of Menlo Park 55 days out of the year for community programming.
The Performing Arts Center seats 492 and contains professional-quality sound and lighting, an orchestra pit accommodating up to 80 musicians, and a full lobby and box office. The venue has hosted musical performances, touring dance companies, author lectures, live chamber music, etc. A wide variety of performances including dance, theatre, musicals, film screenings, sing-alongs, and many other art forms are made availible to the general public throughout the year.
For information on upcoming programs, please contact Matt Milde at mlmilde@menlopark.org or by calling (650) 330-2223.