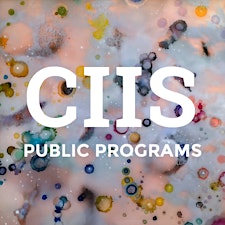 CIIS Public Programs
CIIS Public Programs produces conversations, workshops, and a podcast for people who are curious about themselves and the world. Our programs further personal and social transformation by bringing together the diverse voices of visionaries, artists, change-makers, and scholars to share compelling experiences, offer new perspectives, and expand creative horizons. Public Programs enhances and reflects the academic mission of our nonprofit university home in San Francisco—California Institute of Integral Studies 
Discounts
CIIS students, staff, and faculty receive discounts on all events. CIIS Public Programs Members receive a 20% discount on all events. Contact us for more information (contact info below). Please note that we will check your ID for proof of eligibility on arrival at event. 
Refund Policy
Tickets for individual lectures, lecture series, conversations, and performances are nonrefundable.
Workshops: If you cancel 30 days or more before a workshop, your fee will be refunded, minus a $25 processing fee. If you cancel fewer than 30 days before the workshop, 50% of your ticket will be refunded. If you cancel once the workshop begins, there is no refund. 
Contact Information
Email: publicprograms@ciis.edu
Phone: (415) 575-6175
For FAQs, click here.