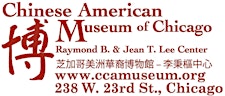 Chinese American Museum of Chicago
The mission of the Chinese American Museum of Chicago (CAMOC) is to advance the appreciation of Chinese American culture through exhibitions, education, and research and to preserve the past, present, and future of Chinese Americans primarily in the Midwest.

By attending any CAMOC event, you agree to be photographed, videotaped, or filmed and grant CAMOC permission to use the finished footage/photography as it may deem proper, including marketing, advertising, and PR-related activities.
Join our mailing list to stay up to date on all our programming by clicking the link below or texting CAMOC to 22828.
Sorry, there are no upcoming events