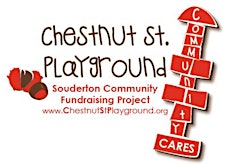 Chestnut St. Playground Fundraising Community Group
Chestnut St. Playground - A Community Cares Fundraising Project for the Souderton Community
The playground at Chestnut Street and Wile Avenue in our Souderton Community is in desperate need of repair. The playground has been and continues to be the gathering place for children and families. Overtime it has seen years of heavy use along with weather wear and tear. The goal is to now raise the remaining $25,000 needed for the bathroom and water fountain facility.
A few very dedicated community members have taken on this project and they have a few very specific goals in mind:
Handicap Accessibility:
Adaptive Seats with Belts
5 ft. wide black-top pathways for wheelchair and walker accessibility
Safe Equipment:
Pour and Play Matting
Learning Integration:
Music Maker with drums, rattles, wheels and more encourage learning and intellectual growth. The play-set includes brail for the blind.  It has also been a wonderful piece for autistic children to participate in the fun!
Business Sponsors include:
Take Shape for Life, Martin & Christina DiVergiglis, 215.206.5541
(2 Sponsorships Left~ You could have your business information here... Select Sponsorship Ticket to secure spot)
Sorry, there are no upcoming events