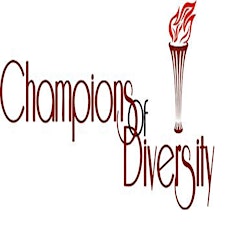 ChampionsOfDiversity.org Inc. WWW.CHAMPIONSOFDIVERSITY.ORG
Click here to subscribe to our text messages.
The Champions of Diversity Network and its associated companies, Champions Of Diversity Media, LLC and ChampionsOfDiversity.org, Inc. overall mission is to be a resource for news and information regarding those who demontrate the best practices and diversity and inclusion within the business, social and cultural ecosystem.
ABOUT:
Champions of Diversity Media is a full services advertising agency and multicultural events services buerau dedicated to promoting diversity and multicultural events throughout the United States, Carribean and parts of Canada.
Champions of Diversity Media presents several branded career fair and diversity events throughout the U.S. in the promotion of workforce & supplier diversity initiatives and to highlight the leaders, movers and shakers diversity outreach, civil rights and equal opportunity.
Founded in 2007 in Central Ohio, Champions of Diversity Media s mission is to be a centralized hub for diversity outreach for corporations and government agencies who are dedicated and committed to promoting the best practices in diversity initiatives within their perspective organizations.
Champions of Diversity Media, a certfied Minority Oned Enterprise, is associated and partnered with a charitable organization, ChampionsOfDiversity.org, Inc. a 501C3 (applied) not-for-profit corporation.