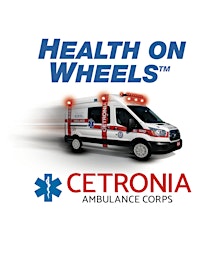 Cetronia Ambulance Corps
The Mission of Cetronia Ambulance Corps is to be the
leader in Emergency Medical Services, Transportation and Community Health
Resources.
The core values of Cetronia Ambulance Corps are values which each member of our organization holds that creates the foundation on which we perform work and conduct ourselves.  Our core values are:
Customer Focus/Excellent Patient Care – We believe performance excellence is judged by our customers based on the quality of their experience.
Community Involvement – Our organization respects and accepts the responsibilities we have to the public and the needs for us to practice good citizenship.
Professionalism – We exercise high levels of professionalism in our work displaying responsibility, competence, knowledge and judgment.
Integrity – We emphasize integrity in every aspect of our profession, resulting in an organization that is trusted by our customers and other professionals.
Leadership – We show leadership by actively influencing others in a positive way for the good of our profession.
Teamwork – Our culture of teamwork allows us to bring together the best collection of skilled professionals and deliver optimum medical care to our customers.